VisasQ Announces Rebranding ~The new branding to reinforce the company's mission "We make insightful connections possible between global leaders and people with expertise" around the world~
VisasQ, a global knowledge platform, has updated its brand design and its corporate website today to support its mission and to strengthen its brand as a global company by integrating its branding with Coleman, which joined VisasQ in November 2021.

Brand site URL: brand.visasq.co.jp/en
Corporate site URL: corp.visasq.co.jp/en
About the Rebranding
VisasQ offers a variety of services that match the knowledge and business experience of individuals with companies in various industries that are embracing innovation and taking on the challenges of change.

Through leveraging the recent developments in Japan, such as open innovation and work style reform, and pursuing overseas expansion with the establishment of a new office in Singapore in 2020 and the acquisition of U.S.-based expert network Coleman Research in 2021, VisasQ has evolved into a global knowledge platform offering expertise from more than 540,000 people in over 190 countries around the world.

One year after the acquisition of Coleman, we have decided to integrate our brands and renew our corporate website in order to support our growth as one global company providing first-class services to our users around the world.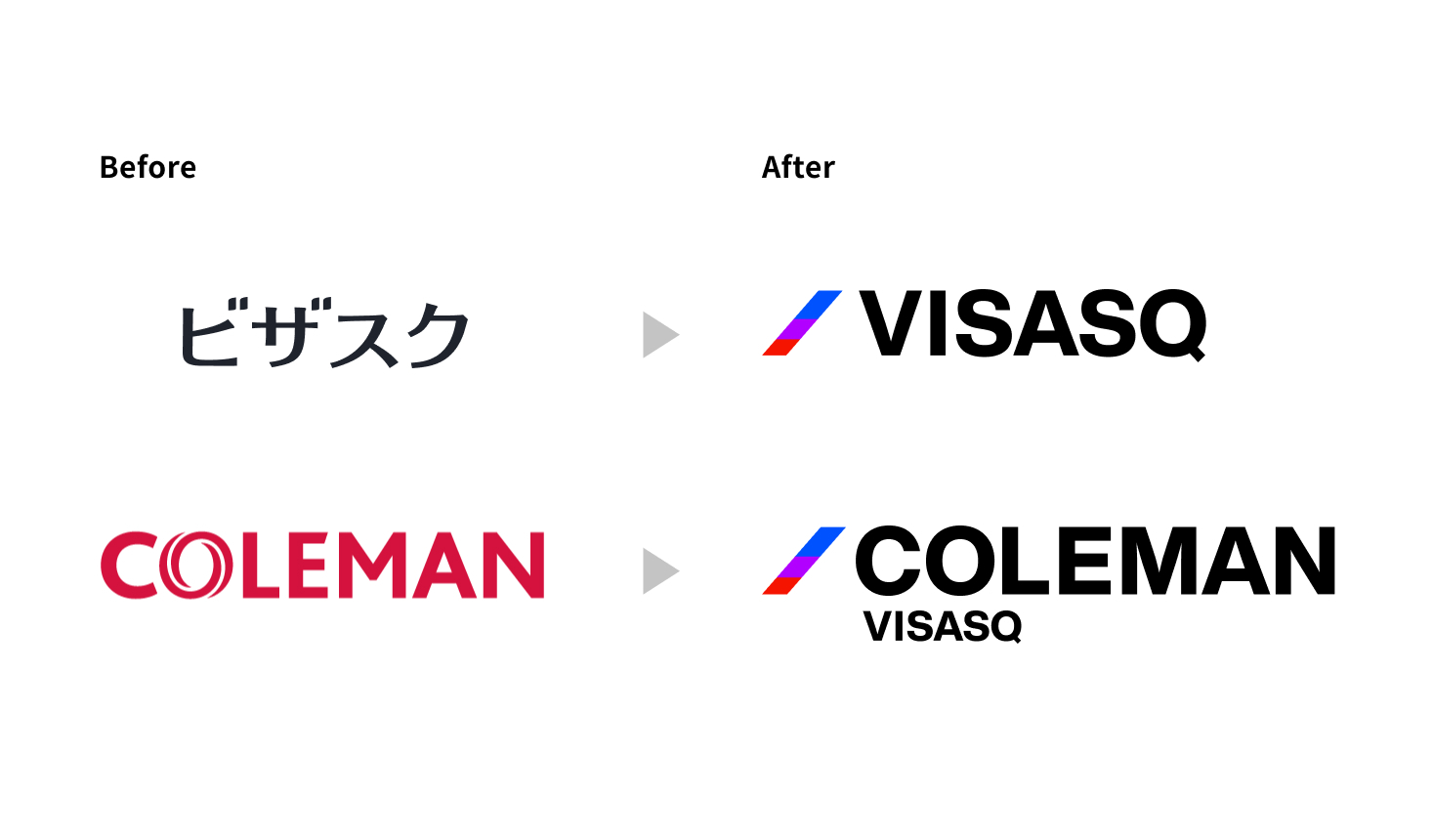 The new brand design is inspired by our company's values and mission "We make insightful connections possible between global leaders and people with expertise". The core brand elements have been redefined based on insights gained from interviews with domestic and international stakeholders.

Also, a common brand symbol was created for both VisasQ and Coleman.
About the New Brand Symbol
The new brand symbol embodies the concept of "Insightful Connections" – it conveys how the right insights build upon each other to help our clients advance successfully towards their future.
Please refer to the VisasQ brand website for more details about the new branding.
Delivering on our mission "We make insightful connections possible between global leaders and people with expertise" around the world
As outlined in the VisasQ's 2022 rankings, companies today are looking for cutting-edge knowledge on such topics as metaverse, web3, DX and reskilling. VisasQ delivers this knowledge through a number of services including one-hour interviews, web surveys, outsourcing and quick Q&As.

We will continue to strive for higher quality matching and new product development, aiming to create a platform that – through a series of insights – helps our clients tackle today's challenges and connect them with the opportunities of tomorrow.
About VisasQ
With the mission of "We make insightful connections possible between global leaders and people with expertise", the company operates a knowledge platform that connects the knowledge of more than 540,000 people in 190 countries around the world(VisasQ is a coined word combining Vision + Ask + Question). It has been listed on TSE Mothers (currently TSE Growth) since March 2020. In November 2021, the company acquired Coleman Research Group, Inc., a major U.S. research firm, and established a global organization of more than 500 employees in 7 offices worldwide, including Tokyo, the U.S. (New York, California, North Carolina), Singapore, Hong Kong, and London. In addition to providing interviews with advisors and online surveys as a means of gathering information on industry trends, client needs, and leading practices in a variety of settings, including strategic planning, new business development, DX, and organizational development, the company also provides outsourced, hands-on, companion support, training instructors, and other matching services. The knowledge platform supports more than 1,000 client accounts, ranging from consulting firms and financial institutions to major corporations and local governments.
Company name: VisasQ Inc.
Location: Sumitomo Fudosan Aobadai Hills 9F and 10F, 4-7-7 Aobadai, Meguro-ku, Tokyo 153-0042
Date of establishment: March 19, 2012
Representative: Eiko Hashiba, CEO
Business Description: Operation of one of Japan's largest* knowledge platforms specializing in the business domain, and support for new business development and organizational development (*In terms of the number of advisors: over 540,000 as of November 30, 2022)
Securities Code: 4490 (TSE Growth)
URL: corp.visasq.co.jp/en
For media inquiries regarding this press release
Please contact the VisasQ PR team on pr@visasq.com