Announcement regarding the decision of the management structure transition to promote integration after overseas M&A and further growth of domestic business
VisasQ ("VQ," Meguro-ku, Tokyo; CEO Eiko Hashiba) is pleased to announce that November 1, 2022 marks one year since the completion of the acquisition of Coleman Research Group ("Coleman," New York, U.S.A.; CEO Kevin Coleman), which operates an Expert Network Service business ("ENS", a service that fulfills clients' needs for insights and advice with expert interviews) globally, primarily in the United States. In addition, we would like to announce that we have decided to shift to a new management structure to promote future management integration and further business growth in Japan, the U.S., and other regions. The new management structure is scheduled to take effect on January 1, 2023, for the U.S., U.K., and Hong Kong, and on March 1, 2023, for Japan and Singapore.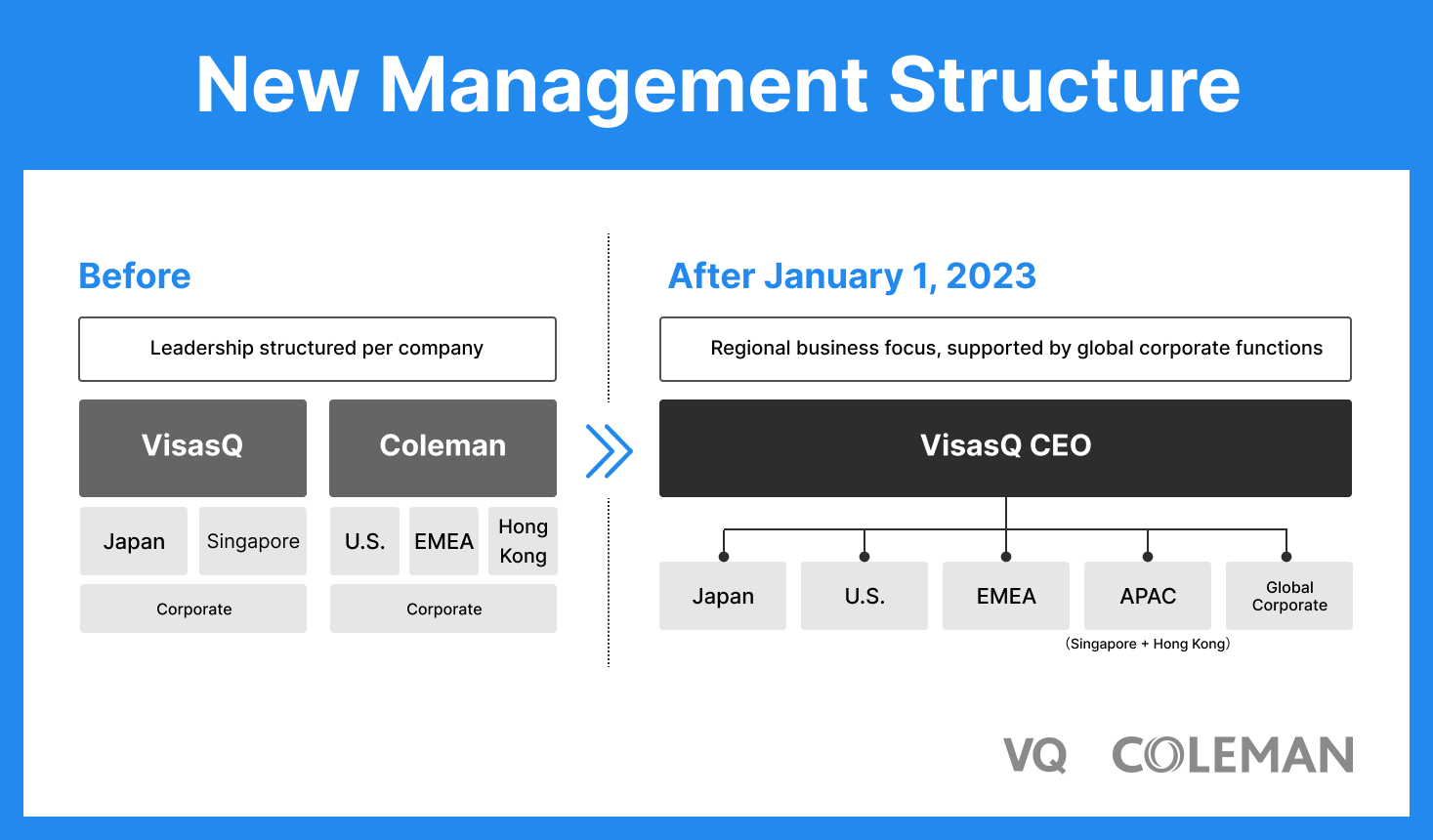 Major Changes under the new management structure
1. Separate the responsibility for business profit in Japan, the U.S., Europe, and APAC
Previously, VQ oversaw the Japan and Singapore offices, while Coleman oversaw the U.S., Europe, and Hong Kong offices. Henceforth, the responsibility for business profit in Japan, the U.S., Europe, and APAC (Singapore + Hong Kong) will be independent and will be managed under the responsibility of the leadership of each region, while CEO Hashiba will lead the management of all sites together.
This structure will allow Hashiba to commit herself more than ever before to the business growth of each of the company's offices outside of Japan, and at the same time, it will create a structure that will allow the U.S. representative to focus more on business growth in the U.S., which is the largest region for the company.
2. Current Executive Officers Shichikura and Miyazaki are to be appointed as Co-Heads of Japan
The current Executive Officer and General Manager of PF Division,Takeshi Shichikura, and current Executive Officer and General Manager of Enterprise Business Division, Yu Miyazaki, will be appointed as Co-Heads of Japan, responsible for business in Japan, including product development for the Japanese market. Shichikura and Miyazaki will be responsible for focusing on and further accelerating the growth of the domestic business while CEO Hashiba will spend more time on global business growth.
Takeshi Shichikura, Co-Head of Japan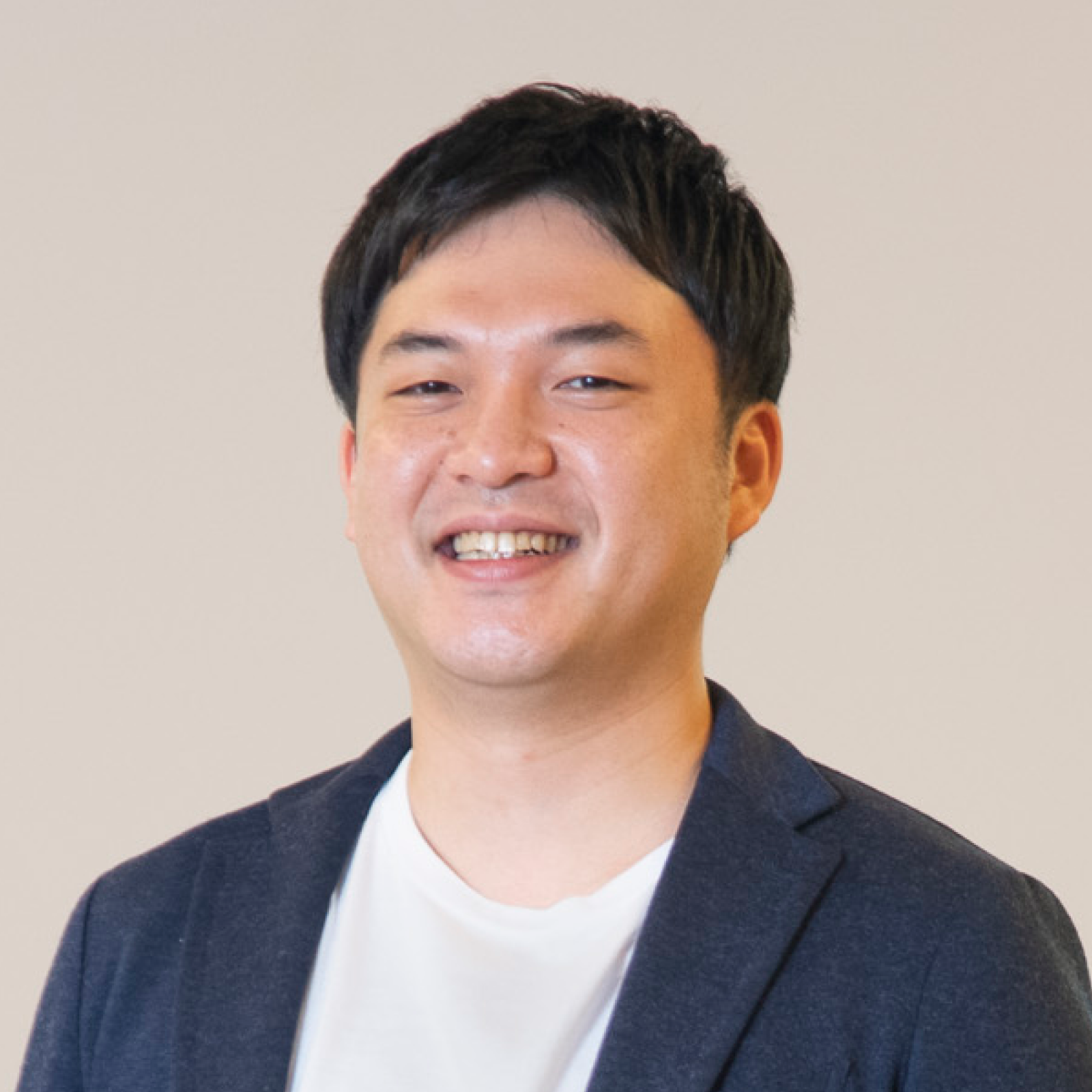 Profile
Takeshi joined the Development Bank of Japan in 2011, and assisted local governments in economic and tourism strategies, provided long-term corporate loans, and was also involved in venture investment. He joined VQ in 2016 and became Executive Officer in 2019, leading the business for consulting firms, financial institutions, and other professional firms. He graduated from Hitotsubashi University.
Comments
A year has passed since the completion of the Coleman acquisition and the collaboration across countries/regions is accelerating. A new phrase, "Collaborate without Boundaries," has also been added to our value, which shows the organization's guiding principles. By maximizing the diversity of each individual, we will continue to take on the challenge of further growth as a global knowledge platform.
Yu Miyazaki, Co-Head of Japan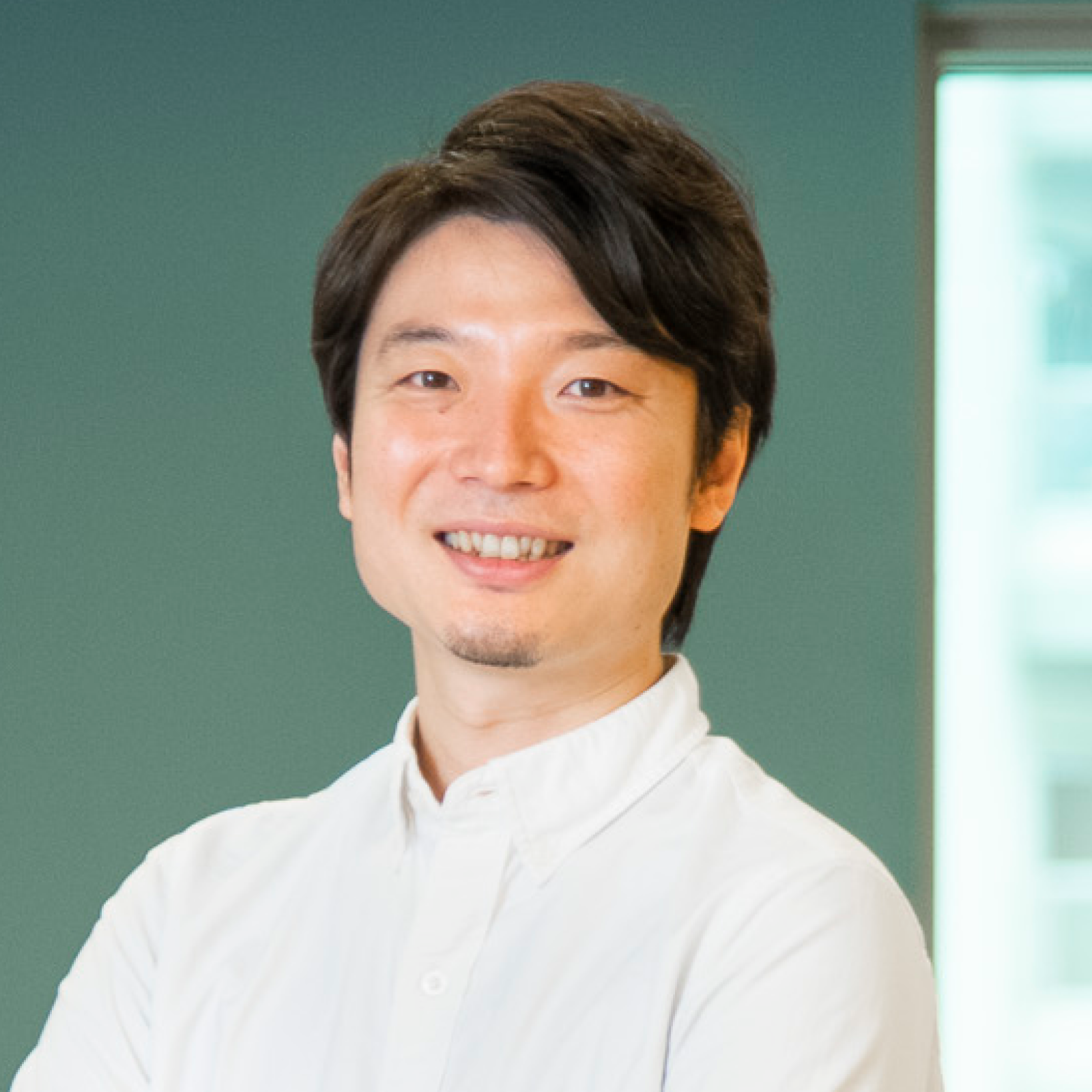 Profile
Yu joined Recruit HR Marketing in 2006, and was responsible for sales, new product development, and corporate planning at Recruit Jobs. He joined VQ in 2019, concurrently serving as GM of CEO Office and GM of VisasQ lite division, launching corporate marketing and driving growth of VisasQ lite. He is currently the GM of the Enterprise Business Division. He graduated from Yokohama National University.
Comments
Since I genuinely felt empathy for our business "to connect the insights that each individual has gained in our careers, with new challenges beyond organizations, generations, and regions" and joined the company, I worked passionately, so that our service will be used by as many people as possible.
We would like to further support all of your challenges in the future, by providing the fastest service possible to reach the insight you need, and creating opportunities to realize the value of your insights.
3. Formation of the Global Leadership Team
Directly under CEO Hashiba, the global leadership team will be formed consisting of Global CSO Uriu, US representative Kevin, Japan Co-Heads Shichikura and Miyazaki, CFO Kokaze, CHRO (ex-Japan) Helen, and General Counsel Conrad, to quickly make management decisions that should be made at the global level.
This structure will strengthen global collaboration in strengthening services and the organization as one company, and at the same time, it will enable the representative for each region to focus more on decision-making, which will lead to the acceleration speed of business growth.
Uriu, the global CSO, will directly oversee multiple functions related to the integration and will continue to lead the post-merger integration
4. Global Consolidation of Corporate Functions
For the first year after the acquisition, VQ and Coleman maintained the same independent corporate functions as before the acquisition, but through this organizational change, the reporting lines for the finance and accounting, legal and compliance, HR, and PR/branding functions will be globally unified and consolidated. As one company, we will accelerate the speed of change and aim to create a highly productive and strong corporate organization globally.
5.Timing of shifting to the new management structure
The transition to the new management structure announced today is scheduled to begin on March 1, 2023, in Japan and Singapore, and on January 1, 2023, in the United States, the United Kingdom, and Hong Kong, to coincide with VQ's and Coleman's fiscal years.
Accelerate service provision by leveraging mutual databases
As of October 2022, the integrated platform between VQ and Coleman has more than 520,000 experts in 190 countries and 7 offices (3 in the US, 1 in Europe, and 3 in Asia) with over 500 employees.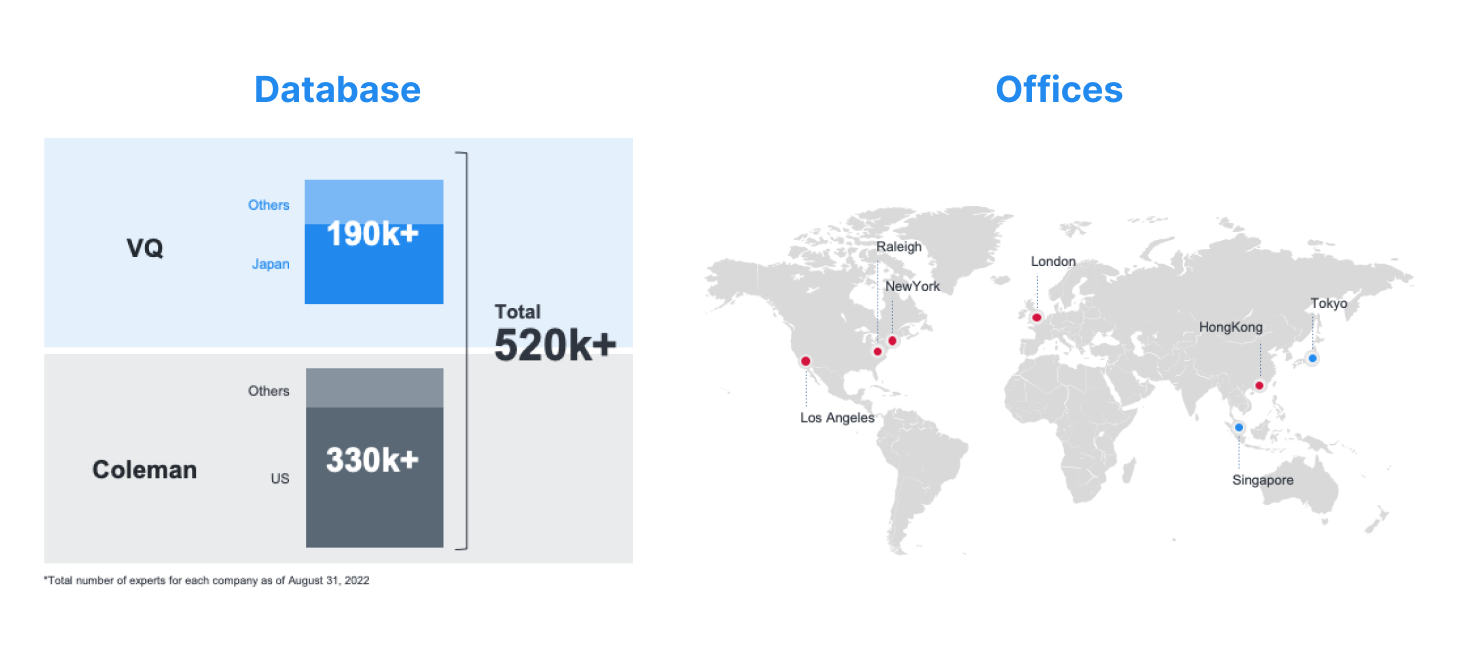 The new global platform, in which the majority of registered users are non-Japanese, will provide domestic and international clients with access to a wider range of overseas information and knowledge.
Since the completion of the acquisition, we have been providing services that mutually leverage the VQ/Coleman expert database as follows.
VisasQ interview
This service allows clients to Interview experienced industry/sector experts for 1-hour online or by phone.
Currently, including Coleman's database, clients will be able to interview the best person with the knowledge you are looking for from over 520,000 registered candidates in Japan and overseas. Interpreters are available upon request.
(example of use) Matching experts registered with Coleman for industry research of new business development for a major manufacturer
VisasQ expert survey
This service is a web-based survey service that specializes in the difficult-to-approach BtoB domain, enabling the collection of primary information through surveys of a broad panel of respondents, including those in Coleman's database. The service can also be used for global customer research and industry trend research.
(example of use) Conducted survey of 50 experts registered with Coleman in Europe, the U.S., and other countries around the world, to support a major Japanese enterprise considering strategies for overseas business
VisasQ report
This is a service in which our professional research partners act on clients' behalf and handle the entire process from survey design to interview implementation and report writing. We can also conduct interviews in English with Coleman's registrants on clients' behalf, allowing clients to leverage the skills of professionals to conduct overseas market research quickly
(example of use) Conducted industry research of new business development on behalf of a major manufacturer with 4 experts including Coleman registered experts
■ VisasQ Inc.
With its mission of "Connecting Insights and Aspirations Across the Globe", VQ operates a knowledge platform that promotes innovation across the globe. By utilizing its knowledge base of over 520,000 experts in Japan and abroad, VQ matches individual expertise through technology and its extensive operations to help solve a range of challenges such as research on industries or needs in new business development, human resource development, and global business expansion. VQ was awarded "Deloitte Technology Fast 500 Asia Pacific" twice in a row in 2019 and 2020 and became a listed company on the Tokyo Stock Exchange on March 10, 2020.
Headquarter: Sumitomo Fudosan Aobadai Hills 9F-10F; 4-7-7 Aobadai, Meguro-Ku, Tokyo 153-0042
Established: March 19, 2012
Representative: Eiko Hashiba, CEO
Business Description: One of the largest(*) business knowledge platform in Japan / VQ also provides project-based support in new business development and organization development (* by the number of resisted experts, 520,000+ at August 2022)
Security Code: 4490 (TSE Growth)
URL:https://visasq.co.jp/
■ For media inquiries regarding this news release
VQ PR
Email: pr@visasq.com
■ For IR-related inquiries regarding this news release
VQ IR
Email: ir@visasq.com