Acquisition of the Coleman Research Group: Accelerating growth with the aim to be a leading global knowledge platform
The leading knowledge platform in Japan, VisasQ ("VQ," Meguro-ku, Tokyo; CEO Eiko Hashiba) announces the decision made at its board meeting today to acquire 100% of the issued shares of Coleman Research Group, Inc. ("Coleman," New York, U.S.A.; CEO Kevin Coleman), a US-based Expert Network Service firm ("ENS", a service that fulfills clients' needs for insights and advice with expert interviews) expanding globally, and to position Coleman as a subsidiary (the "acquisition").
The decision also includes the issuance of new class shares through third-party allotment as part of the acquisition consideration for a total of $102M. An Extraordinary General Meeting of Shareholders is scheduled for October 20, 2021 regarding this financing.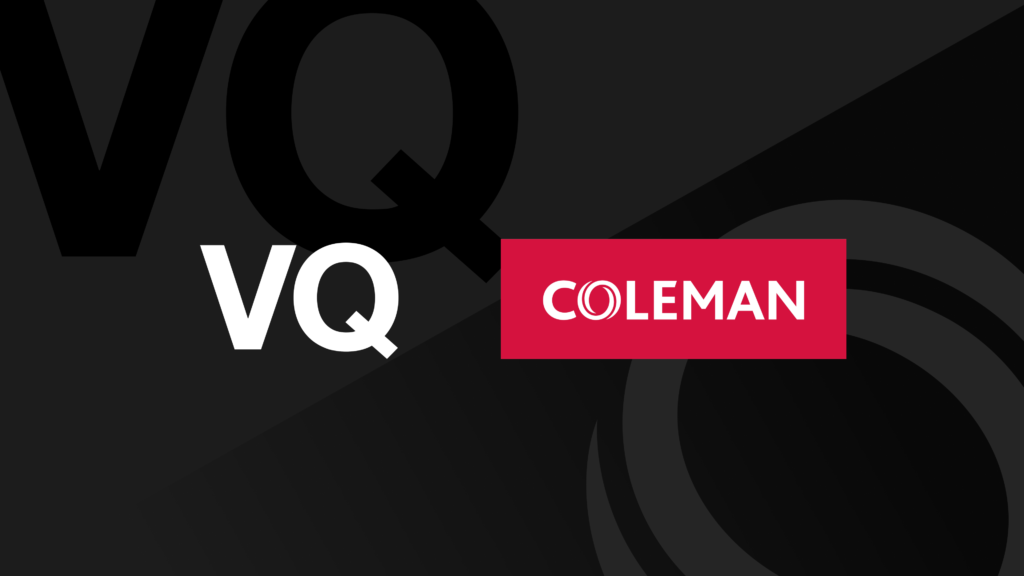 Aims of the Acquisition
With our mission of "Connecting Insights and Aspirations Across the Globe", VQ is building the world's top global knowledge platform as its key strategy. VQ decided to acquire Coleman, the leading ENS firm in the United States, to help achieve this goal. Through an integrated platform with Coleman, VQ will expand its business to over 400,000 experts, 7 locations worldwide (3 in the U.S., 1 in Europe, and 3 in Asia), and over 350 committed employees.
We will create business opportunities to achieve even further growth by deepening collaboration with Coleman to connect client needs and knowledge globally. Together with our powerful partner, Coleman, we will build a knowledge platform that will contribute to innovation across the globe.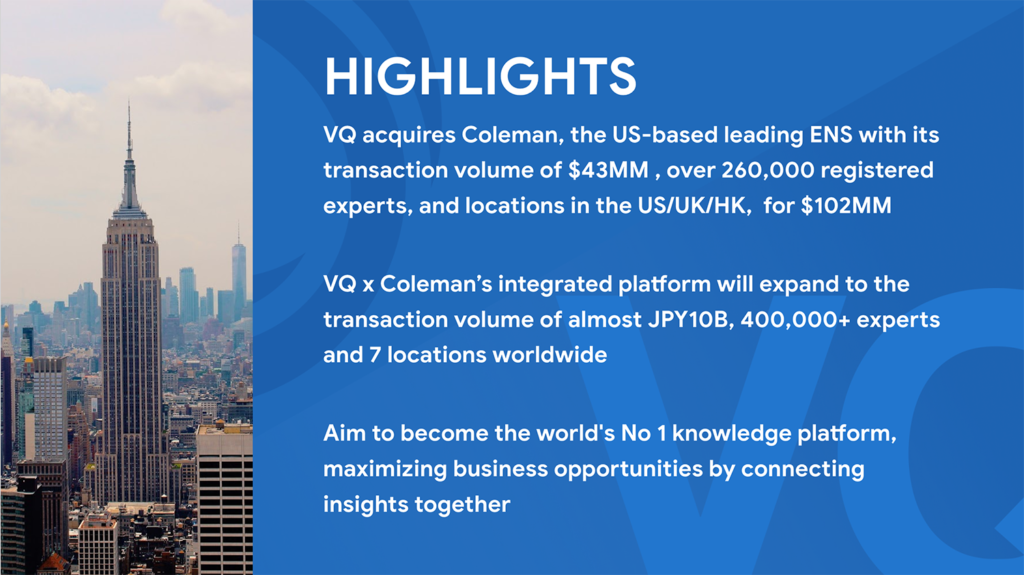 For more information, refer to this slide presentation.
https://corp.visasq.co.jp/release/20210818en.pdf
Message from Kevin Coleman, the founder and CEO of Coleman Research
"VQ and Coleman have a shared strategy: to become a top global expert network," said Kevin Coleman, CEO of Coleman Research. "I am excited about partnering and collaborating with VQ, the leading expert network in Japan, and accelerating the execution of our growth plans. Our combined reach will serve over 1,000 clients with more than 400,000 registered experts. We look forward to working jointly to provide our clients with unrivaled service to meet their needs for rapid access to knowledge. VQ's investment in Coleman is great news for our employees, clients and experts around the world."
Message from Eiko Hashiba, the CEO of VQ
"We are very pleased and excited to welcome a strong partner, Coleman. Coleman was founded in 2003 at the dawn of the industry, and it has been a pioneer in the ENS industry for about 20 years. When VQ developed our service and product, we learned many things from this pioneer. The company's global expert database of over 260,000 experts covers a wide range of industries, with strengths particularly in CXO-level management. In addition, the company has a solid track record of building trust with global clients through high quality and compliance standards. Together with Coleman, we will accelerate growth to build the world's No1 knowledge platform, with our mission: "connecting insights and aspirations across the globe."
Company Description
■ Coleman Research Group, Inc.
Coleman has a transaction volume of over $43million, and provides an expert network service of industry experts that support business decisions, leveraging its over 260,000 registered experts and 5 offices around the world, including the United States, London, and Hong Kong. The products, operations, and compliance framework offered by Coleman have earned high praise from the world's top investment firms, institutional investors, and consulting firms. By making full use of its proprietary technology, dedicated staff, and a global network of experts in 190 countries, Coleman provides clients with speedy access to qualified insights.
Company Name: Coleman Research Group, Inc.
Headquarter: 2711 Centerville Road, Suite 400, Wilmington, 19808, County of New Castle, State of Delaware, USA
Established: January 3, 2006
CEO: Kevin C. Coleman
Business Description: Expert Network Service
■ VisasQ Inc.
With its mission of "Connecting Insights and Aspirations Across the Globe", VQ operates a knowledge platform that promotes innovation across the globe. By utilizing its knowledge base of over 140,000 experts in Japan and abroad, VQ matches individual expertise through technology and its extensive operations to help solve a range of challenges such as research on industries or needs in new business development, human resource development, and global business expansion. VQ was awarded the "Minister's Award" from the Ministry of Economy, Trade, and Industry (METI) of Japan at the 4th Annual Japan Venture Awards (Female Entrepreneur Award), was selected as a "J-Startup Business" by METI, and became a listed company on the Tokyo Stock Exchange on March 10, 2020.
Company Name: VisasQ Inc.
Headquarter: Sumitomo Fudosan Aobadai Hills 9F-10F; 4-7-7 Aobadai, Meguro-Ku, Tokyo 153-0042
Established: March 19, 2012
Representative: Eiko Hashiba, CEO
Business Description: One of the largest(*) business knowledge platform in Japan / VQ also provides project-based support in new business development and organization development (* by the number of resisted advisors, 140,000+ at the end of May 2021)
Security Code: 4490 (TSE Mothers)
■ For media inquiries regarding this news release
VQ PR: Ogawa
Email: pr@visasq.com
■ For IR-related inquiries regarding this news release
VQ IR: Miyagi
Email: ir@visasq.com