VisasQ Partners with DeepBench, a US Tech Startup from MIT
Accelerate overseas growth by further strengthening ability to search and match advisors especially in US and Europe
VisasQ Inc. ("VisasQ"), a knowledge platform provider supporting innovation around the world with a mission of "Connecting Insights and Aspirations Across the Globe", is pleased to announce that VisasQ and DeepBench Inc. ("DeepBench"), a US-based technology-driven expert network services provider, are forming a capital and business alliance.
Through this alliance, VisasQ will utilize DeepBench's proprietary advisor search system to further strengthen and streamline its matching capabilities and processes of overseas advisors. By combining the new technology introduced by DeepBench and the technology and matching system developed by VisasQ, VisasQ will provide our clients with more efficient and optimal access to global knowledge.

4x yoy growth! Overseas Business "VQ" 
With a mission of "Connecting Insights and Aspirations Across the Globe", VisasQ offers a wide range of services. We leverage our database of more than 100,000 knowledgeable advisors, to solve various problems in new business development including industry research and needs assessment, marketing, global expansion, and more.
We believe that connecting business knowledge beyond regions and countries will have a significant impact, and we have long grown our business with an eye toward global expansion. Our value #1 is:"Think Big and Global."
Increasing need for overseas expertise
For global business expansion as well as domestic new business development, there is a strong need to understand latest trends of global markets, industry structure of other regions, and much more. However, due to language and cultural barriers, it is more difficult to find global knowledge and expertise through internet searches and literature research than finding them in the domestic Japanese market.
In response to our clients' growing need for interviews with overseas advisors, we are further expanding our dedicated international team in our Tokyo office from 2019 to support the matching of Japanese companies with overseas expertise.
Case Study of Interviews with Overseas Advisors by Japanese Clients
Consumer Electronics https://visasq.co.jp/case/mitsubishiele-design
Chemical https://visasq.co.jp/case/agc2
We also opened our first overseas office in Singapore in January 2020 and converted it into a subsidiary in April 2020 to establish VisasQ Singapore Pte. Ltd. We have grown the Singapore operation to approx. 10 people to meet research needs in broader Asia.
Currently, the size of our overseas knowledge database exceeds 10,000 advisors from 120 countries, and we are connecting insights across the globe with interviews set up with advisors from 40 countries. The number of interviews with overseas advisors has grown more than 4x yoy.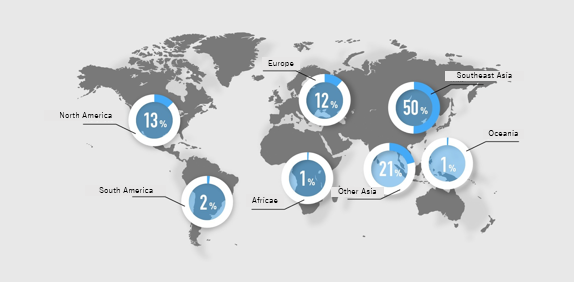 Capital and business alliance with DeepBench
‐Outline of the Alliance
VisasQ has invested USD approx. 300 thousand in DeepBench to fund future growth, while VisasQ has the right to use DeepBench's proprietary advisor search system and DeepBench will provide support for system and certain processes in the search for advisors. Through this capital and business alliance, VisasQ will further strengthen and streamline its matching capabilities and processes for overseas advisors.
About DeepBench
DeepBench is a startup company founded in 2016 by co-founder and CEO Yishi Zuo and other members of the team at the Massachusetts Institute of Technology (MIT) Graduate School.
Since its inception, DeepBench has developed a proprietary advisor search system that efficiently searches for relevant knowledge across data scattered around the world,and provided a technology-driven expert network platform. DeepBench's client base comprises of approximately 400 companies ranging from Fortune 500 to startups, investors to UX designers.


Through this strategic investment in and partnership with DeepBench, we will combine DeepBench's technology with our technology and matching operations to further expand our ability to source advisors globally, particularly in the US and Europe.
Comments from both companies regarding the partnership


Left: DeepBench Yishi Zuo, Right: VisasQ Hidetoshi Uriu
Hidetoshi Uriu, COO & Head of Global Business Development, VisasQ
"We have built up a track record of overseas matching and have steadily grown our overseas business. We are pleased to have this opportunity to partner with DeepBench who has the same vision with us, and take an important step to further expand our overseas business in line with our strategy at the time of our IPO. By combining DeepBench's technology-driven systems and our proprietary technologies and matching system, we are looking forward to realizing together a world of "Connecting Insights and Aspirations Across the Globe."
Yishi Zuo, CEO & Co-Founder, DeepBench
"DeepBench has heavily invested in technology since our inception in 2016.We are uniquely positioned in the global expert network service industry. I deeply empathize with VisasQ's vision, and I'm very excited to work with Eiko (VisasQ's founder & CEO), who is also an MIT Sloan alum. We look forward to collaborating with VisasQ, which has built a formidable position in Japan. Together, DeepBench and VisasQ will continue to spearhead innovations in connecting global expertise via our proprietary technologies."
About the company
Company name: VisasQ Inc.
Establishment: March 2012
Representative: Eiko Hashiba, Representative Director and CEO
Securities code: 4490 (Tokyo Stock Exchange, Mothers)
Address:10F Sumitomo Fudosan Aobadai Hills, 4-7-7 Aobadai, Meguro-ku, Tokyo
URL: https://corp.visasq.co.jp/en/
Company Name: DeepBench Inc.
Founded: October 2016
Representative: Yishi Zuo, CEO & Co-Founder
Location: 2 Avenue De Lafayette 4TH FL, Boston, MA 02111 USA
URL: https://deepbench.io/
Inquiries about the use of our services
VisasQ Global Business Development Group
Tel: 050-3733-2437
email: connect@visasq.com
Press inquiries.
Public Relations: Akiko Ogawa
email: pr@visasq.com