Coleman/VisasQ opens its new US office in Phoenix, Arizona~ Enhancing our Western US operations to provide insightful global knowledge even more quickly~
Coleman Research Group and its parent company VisasQ, a leading global expert network, announced the opening of its new Phoenix office in Arizona, United States.
This organizational enhancement in the western part of the US enables us to provide more timely services in that area, to strengthen our after-hour support for our clients in the eastern part, and to accelerate collaboration with our Asian offices in Japan, Hong Kong, and Singapore to provide market insight there.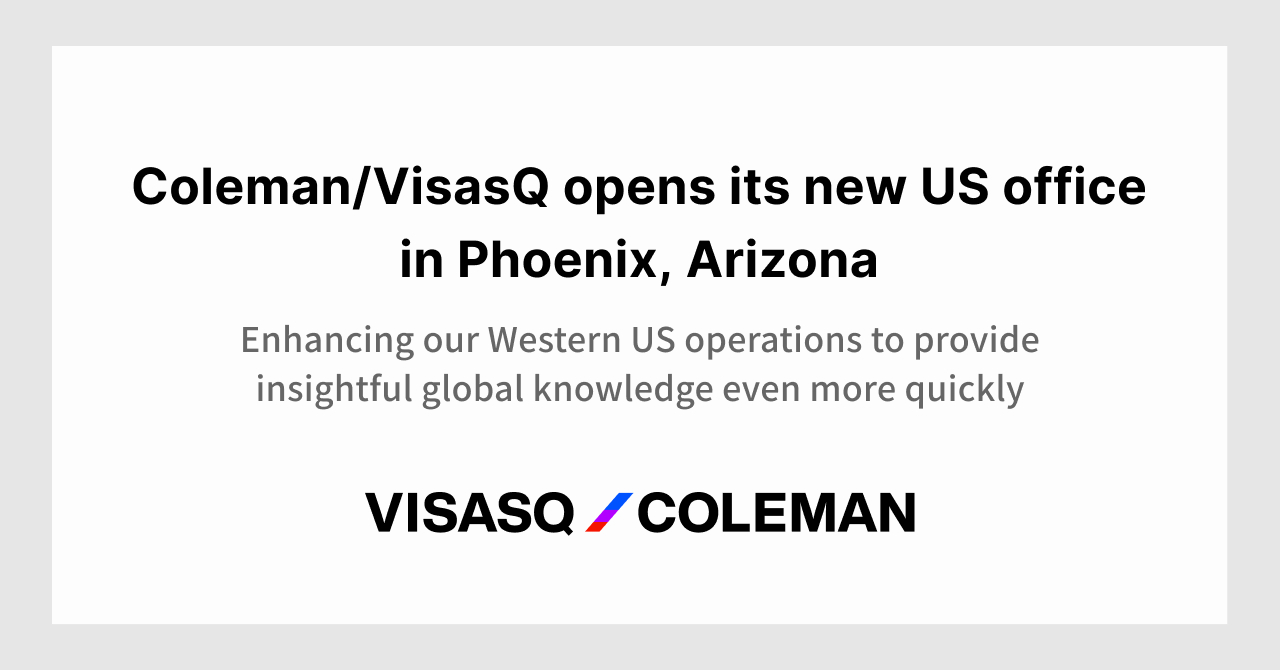 ■ About Our Business
As the only public company in the expert network service (ENS) industry, VisasQ, together with Coleman since 2021, have expanded its global knowledge platform that connects businesses with experts from around the world. With a database of over 580,000 experts in 190 countries, we offer a variety of services such as 1on1 consultation, expert survey, quick poll, etc., to provide most needed insights in most needed ways.
■ Background of the New Phoenix Office
To accelerate the provision of the latest global knowledge, we believe it is essential to strengthen our operations around the West Coast and Western part of the United States.
The Phoenix area is experiencing rapid economic development with the active participation of many high-tech industries. Additionally, it is gaining recognition as an academic hub with excellent universities, making it an attractive location for recruiting and training talented individuals. For these reasons, we have decided to open our second office in the Western United States, following our Los Angeles office.
Furthermore, the Phoenix office is our 8th global base. In addition to strengthening each location, we will enhance global collaboration between offices to strengthen our services and provide our clients with the best knowledge more quickly.

"I am excited to move ahead with the opening of our Phoenix office. We assessed numerous locations and unanimously agreed that Phoenix/Tempe offered us all we need to expand our operations, secure the best talent and be best positioned to service our global client base." said Russell Griffiths, SVP, Head of US Consulting

"I am so excited for the opening of Coleman's Phoenix office. Having a presence there to provide operational excellence and additional coverage to our clients across the US and globally is a huge win!" said Meredith Humphries, VP, Head of US IM & PE
◎Phoenix Office Location: 410 N Scottsdale Road Suite 1000 Tempe, AZ 85281

■ CEO Eiko Hashiba comments
We are delighted to announce the opening of our 8th base in Phoenix, Arizona, one of the rapidly growing cities in the United States. We are excited to work together with our starting members in this office to expand and develop it, with lots of potential to collaborate with local communities including educational institutions. With the opening of this new office, we aim to enhance and fulfill our mission of "Making Insightful Connections Possible" on a more global scale.
■Contact information
For applicants interested in the Phoenix office:
https://boards.greenhouse.io/colemanresearch/jobs/6856196002
For companies considering our service: https://www.colemanrg.com/become-a-client/
■ About Coleman Research and VisasQ Group
Coleman Research Group, Inc.
Coleman is a leading expert network and part of VisasQ Group. For nearly 20 years, it has been trusted by the world's largest Asset Management Funds, Management Consultancies and Corporations for rapid insights from hard-to-find experts. Together with VisasQ, Coleman's network includes nearly ½ million registered experts in 190 countries. It is known for the highest standards of excellence, with dedicated client teams, 24/7 global support, proprietary technology and rigorous compliance protocols. Its offices around the world are based in the Americas, EMEA and APAC.
URL: https://colemanrg.com

VisasQ, Inc.
With the mission of "We make insightful connections possible between global leaders and people with expertise", the company operates a knowledge platform that connects the knowledge of more than 580,000 people in 190 countries around the world(VisasQ is a coined word combining Vision + Ask + Question). It has been listed on TSE Mothers (currently TSE Growth) since March 2020. In November 2021, the company acquired Coleman Research Group, Inc.
URL: https://corp.visasq.co.jp/en
■ For media inquiries regarding this news release
VisasQ PR: Akiko Ogawa,Mayu Shimura
Email: pr@visasq.com